---
Works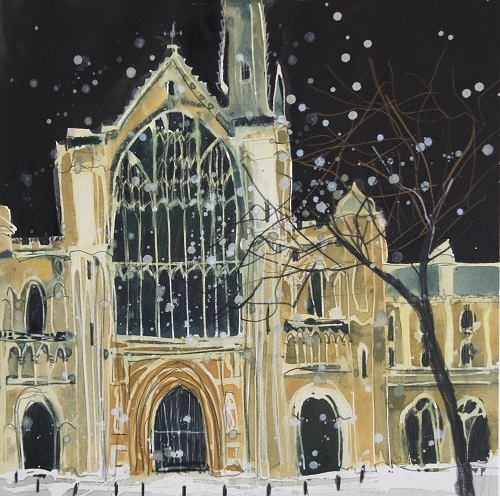 ---
About
Susan Brown – The Norwich Collection will be on display throughout December 2020 Susan Brown's style is unique and innovative. She manages to handle her subjects in a spontaneous manner, creating bold, lively paintings while confidently retaining control over her medium. Susan Brown was born in Yorkshire she completed a Foundation course in Art and Design at Huddersfield Polytechnic followed by a BA Hons degree in Interior Architecture at Leeds Polytechnic. Her Career path since that time has followed…
Read more
---
About
Susan Brown – The Norwich Collection will be on display throughout December 2020
Susan Brown's style is unique and innovative. She manages to handle her subjects in a spontaneous manner, creating bold, lively paintings while confidently retaining control over her medium.
Susan Brown was born in Yorkshire she completed a Foundation course in Art and Design at Huddersfield Polytechnic followed by a BA Hons degree in Interior Architecture at Leeds Polytechnic. Her Career path since that time has followed two main areas of discipline Interior Architecture and Fine Art. Susan has won many awards and has shown in many open exhibitions nationally and internationally, including the RA Summer Exhibition. Her work is held in various public and private collections.
---
Artist's Statement
I have been inspired for much of my working life, both in painting and designing, by two symbols: the circle and the line. I believe that these two symbols hold what I can only describe as a sort of DNA of visual references, a set of parts, representing for me the continuum and the measure of life.
The circle round and contained has no beginning and no end, found in the cycle of life, in the sun, the moon, the earth. The line, becomes the measure, for example between sweet and sour, good and bad, young and old, hot and cold. Together these two symbols, provide the means to understand and perhaps create, to be used as building blocks in the disciplines of painting and design, and for me they are and always will be inseparable.
I'm on the Ile de la Cité in Paris, one of my favourite cities. I'm looking at Notre Dame, iconic, awe-inspiring, and I marvel at its size, its majesty, its history, its beauty and intricate detail, its structure and its power. I witness the crowds paying homage to this masterpiece and wonder at the peoples who, throughout history have passed by its doors – I'm searching, essentially, for a connection between this iconic masterpiece and the natural world, and I find it in the line and the circle, the measured and the continuum, symbols of life, of power, perhaps of a spiritual world – God – the Sun – the giver of life – the window – the light on the world.
Man's relationship to his environment, has always held a fascination. The natural world has a complicated form and structure, a set of precedents that create and guide its existence – patterns, rhythms, formulas, the cycle of growth and decay, the juxtaposition of nature's fragility and its power. These principles found in nature that often inform the built environment, and so a building, a tree, a city, a person, the connection with its history, its passing, its life, have become my subjects and the visual language and vocabulary that I use. This journey of looking, being, seeing objects in my time and in my space, a witness to a moment of continuum, has become my work.
---
Biography
COLLECTIONS
AHR Architects & Building Consultants
Allied Domecq
The Royal Bank of Canada
Sir Andrew Derbyshire
HBOS
Jarvis (Construction) UK
The Sir George Martin Trust
The National Trust
Natwest PLC
Ove Arup and Partners
Provident Financial
The University of Sheffield
The University of York
Woodmansterne Publications Ltd
Yorkshire Water PLC

COMMISSIONS
AHR Architects & Building Consultants
Woodmansterne Publications Ltd
Slightly Foxed Literary Quarterly
The Wine Society
Jarrolds Department Store, Norwich
Many private commissions

PRIZES
2013 Honorary Doctorate of Arts, Leeds Metropolitan University
2010 London Lives
2008 Lynn Painter Stainer – Touring Exhibition, Connecticut, USA
2006 Ing Discerning Eye – Penrose Purchase Prize
2001 Singer Friedlander Sunday Times Watercolour Competition – 3rd Prize
1997 Hunting Observer Art Prizes – Regional Winner
1995 Laing Competition – Highly Commended. 
Late Night Shoppers, Norwich


50x54cm
---
Watercolour and Mixed Media
Sold

•
---
Ionic Building, Norwich


Watercolour and Mixed Media
In the Shadow of the Guildhall


Watercolour and Mixed Media
Autumn Light


Watercolour and Mixed Media
Ethelbert Gate II, Norwich


Watercolour and Mixed Media
From Gaol Hill, Norwich


Watercolour and Mixed Media
Autumn at Bishop's Arch House


Watercolour and Mixed Media
Medieval Gateway, Norwich


Watercolour and Mixed Media
Autumn Norwich Cathedral


Watercolour and Mixed Media
West End, Norwich Cathedral


Watercolour and mixed media
Detail, Norwich Cathedral


Watercolour and mixed media
The Tower, Norwich Cathedral


Watercolour / mixed media
End of the Day


Watercolour and Mixed Media
Cultivation


Watercolour and Mixed Media
Harvest


Watercolour and Mixed Media
Landmarks


Watercolour and Mixed Media
Tower Detail, Norwich Cathedral Autumn


Watercolour and mixed media
Cathedral Close


Watercolour and mixed media
Erpingham Gate II


Watercolour and mixed media
Detail, Norwich Guildhall


Watercolour and mixed media
Ethelbert Gate, Entrance to Norwich Cathedral


Watercolour and mixed media
Bishops House Arch, Norwich Cathedral


Watercolour and mixed media
Grand Entrance, Ethelbert Gate


Watercolour and mixed media
Erpingham Gate, Norwich


Watercolour / Mixed Media
West Entrance, Norwich Cathedral


Watercolour / Mixed Media
Ethelbert Gate, Norwich


Watercolour / Mixed Media