---
Works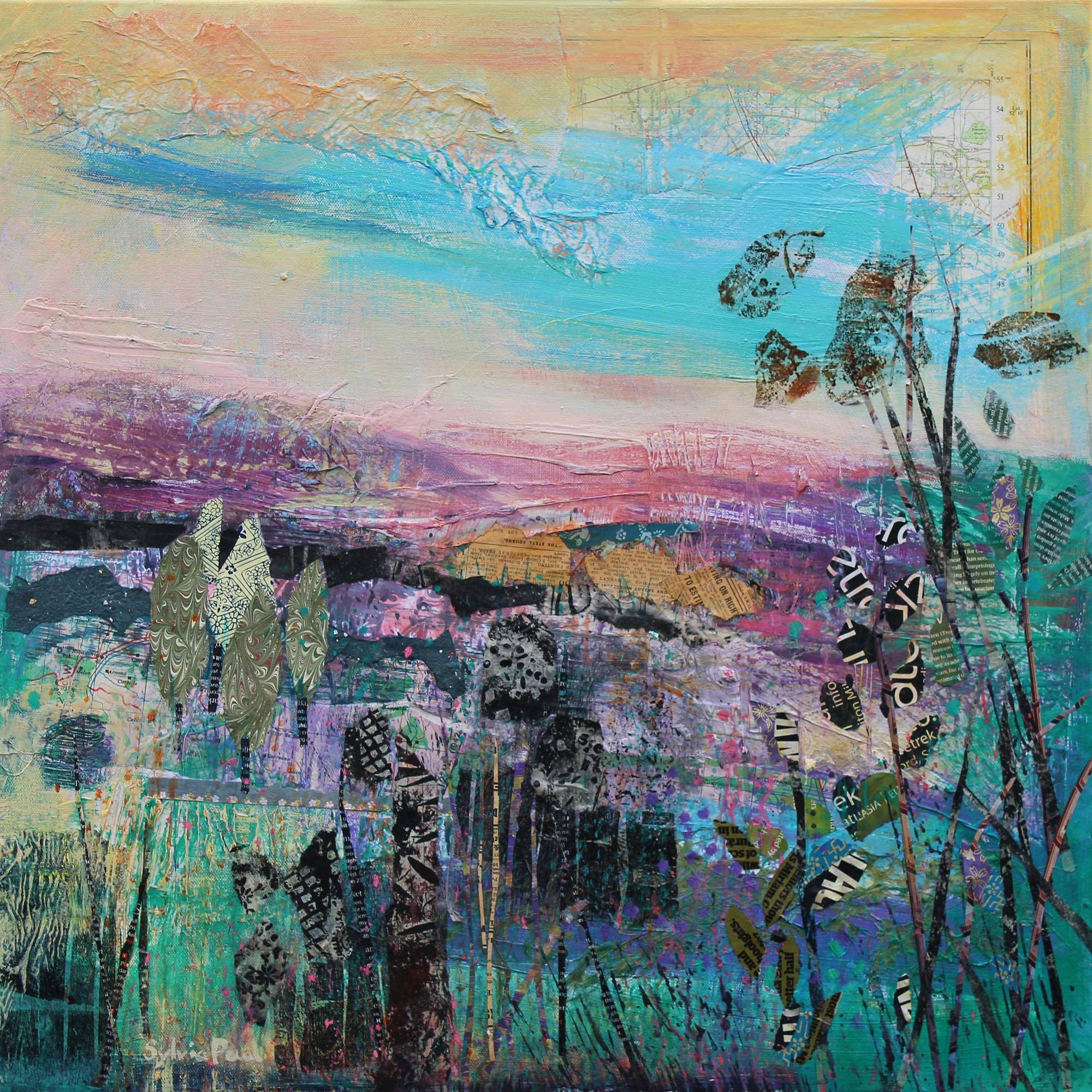 ---
About
Sylvia Paul has been exhibiting her paintings for more than 30 years and still enjoy's challenging and developing her creativity. Sylvia Paul's oil paintings are worked using a knife over an acrylic underpainting in a free and expressive style. For her landscapes, she uses small pastel sketches done in the field, as her reference in the studio. The oils are painted on MDF board and framed with a contemporary stone white colour frame. The collages are worked in acrylic on canvas with layers of paint…
Read more
---
About
Sylvia Paul has been exhibiting her paintings for more than 30 years and still enjoy's challenging and developing her creativity.
Sylvia Paul's oil paintings are worked using a knife over an acrylic underpainting in a free and expressive style. For her landscapes, she uses small pastel sketches done in the field, as her reference in the studio. The oils are painted on MDF board and framed with a contemporary stone white colour frame.
The collages are worked in acrylic on canvas with layers of paint and paper collage, which is applied using PVA glue. She frames these with a contemporary white frame.
Landscape and still life are familiar subjects, but after visiting Japan Sylvia's collages, in particular, are more abstract in style, and her memories are often her inspiration. The papers she uses range from handmade Japanese papers to old postcards and magazines. Sometimes the text she finds becomes a further inspiration for the painting.
Sylvia Paul has a studio in her garden at home in Dovercourt Essex.
---
Biography
Open Exhibitions
Royal Academy Summer Exhibition- 2009 Royal Institute of Water Colour Artists – 2009 East West Artist and Culture Club, Kiku Gallery, Osaka, Japan 2008,- Lennox Gallery, London 2009 East West Art Award Finalist Exhibition ROA Gallery, Pall Mall, London 2010, 2011, 2012 (Best in category 2D 2012) The Pastel Society- 1993, 1994, 1997, 1999 Society of Women Artists – 1991, 1992, 1993 Laing Landscape Exhibition Regional and London Exhibitions – 1998, 1999 Royal Institute of Oil Painters – 1999 Solo Exhibitions North Peckham Civic Centre – 1978 South London Art Gallery – 1979 (Three Person) The Haste Gallery, Ipswich – 1996, 2000, 2001 Old Fire Engine House, Ely – 1997, 1999, 2001, 2003, 2005, 2007, 2009, 2012 Snape Maltings, Suffolk – 1998, 1999, 2000 Digby Gallery, Colchester – 2004 Shakespeare House Gallery, Dedham – 2005 (Two Person) The Rochester Gallery, Devon – 2005 Craole Gallery Niigata Japan – 2011 Everyman Gallery, Chorlton, Manchester – 2012 Artist in Residence Burton Agnes Hall, Yorkshire – May 2004, June 2005 Colchester Open Studios – September 2003, 2004, 2005, 2006, 2007, 2008, 2009, 2010, 2012 Art Societies East West Artist and Culture Club Collections Norwich Union (Aviva) Headquarters
Mist and Marsh


Acrylic and College
Sunrise


Acrylic and College
The Water's Edge


Acrylic and College
Summer Shadows


Acrylic and collage on canvas
The Last Glow of Summer


Acrylic and College
Fields


Acrylic and collage on canvas
Tea Cup


Acrylic and collage
Flower Song


Acrylic and collage
Spring Woodland


Oil on board
Wild Flowers under the Trees


Oil on board